5. June 2023 | Press release
Geopost launches its Carbon Calculator to better support its customers on their journey towards net zero
Geopost and a group of strategic e-merchants have partnered for several months to test the transport company's new Carbon Calculator, a digital tool that supports shippers' carbon management and reduction strategies.
After an initial phase of collaborative in-house development, Geopost and selected key customers have successfully tested the new Geopost Carbon Calculator, to precisely measure the carbon emissions[1] of their deliveries in real time.
Geopost's Carbon Calculator is accredited by Smart Freight Centre[2], and pioneers carbon reporting by providing greater visibility to shippers so they can better understand, report and reduce their carbon emissions.
The tool will be available to all Geopost's customers in 2023, across the company's 20 largest European business units.
The Carbon Calculator: an accredited digital tool for strategic decision-making  
Built for and with Geopost's customers, this powerful technology supports shippers' carbon reduction strategies by enabling customers to analyze, in real time, report and ultimately reduce emissions over the long term.
Geopost's Carbon Calculator provides a unique service to shippers looking to accurately track their carbon emissions, by using scan events to track each parcel as it moves through the Geopost network. This allows Geopost to provide its customers with emissions data specific to their shipments and real-time visibility on their scope 3 emissions.
Geopost's Carbon Calculator is in methodological conformance with robust, international carbon accounting standards, notably the Global Logistics Emissions Council Framework for Logistics Emissions Methodologies (GLEC Framework). The tool is officially accredited by Smart Freight Centre and is authorized to provide carrier greenhouse gas (GHG) emissions data for freight and logistics.
The Carbon Calculator is already available in 10 business units (Chronopost, DPD France, DPD UK, DPD Belgium, DPD Poland, DPD Estonia, DPD Latvia, DPD Croatia, DPD Slovenia and DPD Switzerland) and Geopost will gradually roll it out to its shippers in the course of 2023, covering by the end of 2023 the company's 20 largest business units in Europe[3]
Commenting on this key announcement for the company, Jean-Claude Sonet, Executive Vice President, in charge of Marketing, Communications and Sustainability at Geopost, says:
"At Geopost, we have proven since 2012 our expertise in innovating for sustainable outcomes by constantly improving how we quantify and report on carbon emissions to the benefit of our customers.  I firmly believe that our Carbon Calculator is a perfect example of this. It is a pioneering tool, built in line with international carbon accounting standards, designed to help businesses meet the need for accurate, regular CO2 emissions reporting – all while helping them make more sustainable decision making in the long-term."
Growing expectations from customers and consumers on sustainability
For both brands and final consumers, sustainability and transparency have become major expectations throughout the value chain. As Geopost's "European e-shoppers" study shows, consumers are thinking more than ever about the impact of their purchases on their local communities and their social and environmental responsibility. 64% of regular e-shoppers are willing to go to a different website to find a more sustainable delivery option.  Yet, the same study also reveals that e-shoppers largely feel that sustainability is the responsibility of brands and companies.
In this context, shippers need to measure carbon emissions across their transport networks so they can reduce emissions where it matters most. They require accurate scope 3 emissions data from their transport service providers to accurately consolidate, compare and reduce carbon emissions. In addition, they also need to provide reliable and transparent data to their consumers. Geopost, in line with its ambition to become the international reference in sustainable delivery, has developed, with the support of its Sustainability, Operations and IT teams, an industry-leading carbon quantification and reporting tool, the Carbon Calculator. 
Sustainability at the core of Geopost strategy
As the largest parcel delivery network in Europe, the company has experienced strong and rapid growth in recent years. Since 2012, Geopost has been taking meaningful action to improve the environmental performance of its network:
The company has been carbon neutral since 2012 and compensates all its residual transport and buildings emissions.

The company is well on track to deliver to 350 cities in Europe (110 million Europeans) with 100% low-emission delivery means by 2025 – through 15,000 low-emission delivery vehicles, 6,700 charging points and 250 urban depots.

This will result in an 83% reduction of carbon emissions and a 95% reduction of air pollutants in targeted cities.

In addition, given the impact of air quality on people's health, Geopost is partnering with Pollutrack to monitor air quality in 28 European cities.
In February 2023, the Science Based Targets initiative (SBTi) formally approved Geopost's 2040 net zero targets. The company will contribute to limiting global temperature rise to 1.5°C by accelerating its greenhouse gas (GHG) emissions reduction plan: drastically reduce its scope 1, 2, 3 GHG emissions by 43% by 2030 and by 90% by 2040 compared to 2020. The company will reach net zero in 2040 by neutralizing all residual emissions (around 10%) through robust carbon offset projects.
In September 2022, the company also announced it had joined the Climate Group's EV100+ initiative as a founding member, committing to transition its fleet of vehicles over 7,5 tonnes to zero tailpipe emissions by 2040.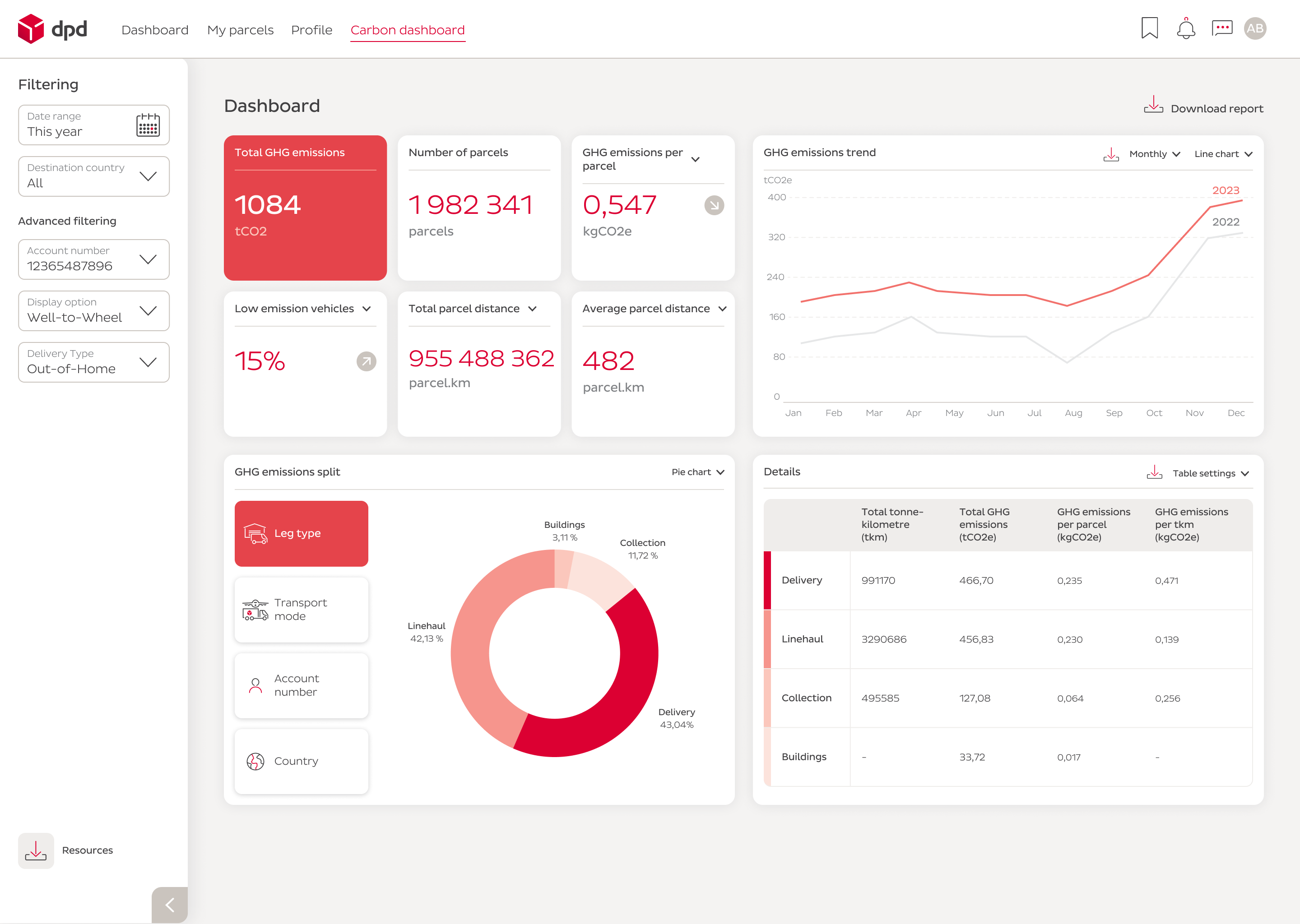 ----
Key Definitions
*Scope 1, 2, 3
Scope 1 emissions are direct emissions from company-owned and controlled resources.
Scope 2 emissions are indirect emissions from the generation of purchased energy.
Scope 3 emissions are all indirect emissions – not included in scope 2 – that occur in the value chain.
(Source: GHG Protocol)
GLEC Framework
Comparing greenhouse gas emissions (GHG) across different modes of transport can be like comparing apples with oranges.
That's why the Global Logistics Emissions Council (GLEC) developed the GLEC Framework: the only globally recognized methodology for harmonized calculation and reporting of the logistics GHG footprint across the multi-modal supply chain. It can be implemented by shippers, carriers and logistics service providers.
Designed to inform business decisions and steer efforts to reduce emissions. It is in alignment with:
Greenhouse Gas Protocol

UN-led Global Green Freight Action Plan

CDP reporting
(Source: Smart Freight Centre)
----
About Geopost 
Geopost, a European leader in parcel delivery and solutions for e-commerce, operates in 49 countries across all continents through its network of expert delivery brands, including: DPD, Chronopost, SEUR, BRT, Speedy and Jadlog. Leveraging its industry-specific expertise, Geopost is further growing the development of out-of-home delivery services with Pickup, the densest parcel shop and locker network in Europe and is also expanding temperature-controlled solutions for food and healthcare business. In a world of acceleration and transformation, Geopost engages and embraces new e-commerce territories with eShopWorld via Asendia, epicery and Pourdebon.com.
With 122,000 employees and partners, Geopost endeavours to make commerce more convenient, profitable and sustainable for their customers and communities. Committed to becoming an international reference in sustainable delivery, Geopost is the first global delivery company to have its roadmap to Net Zero by 2040 approved by the Science Based Targets initiative (SBTi).
Part of the La Poste Groupe, Geopost generated a €15.6 billion revenue and delivered 2.1 billion parcels worldwide in 2022.
[1] The Carbon Calculator covers all relevant greenhouse gas (GHG) emissions, which are reported as CO2-equivalents (CO2e).
[2] Smart Freight Centre: international non-profit organization focused on reducing greenhouse gas emission from freight transportation
[3] Business Units covered: BRT (Italy), Chronopost (France), DPD Belgium, DPD Croatia, DPD Czech Republic, DPD Estonia, DPD France DPD Germany, DPD Hungary, DPD Ireland, DPD Latvia, DPD Lithuania, DPD Netherlands, DPD Poland, DPD Portugal, DPD Slovakia, DPD Slovenia, DPD Switzerland, DPD UK, SEUR (Spain).
---